Zhu dominates compatriot Wang Manyu in women's final while Chinese Taipei teenager Lin caps off stirring run with win over Fan Zhendong.
---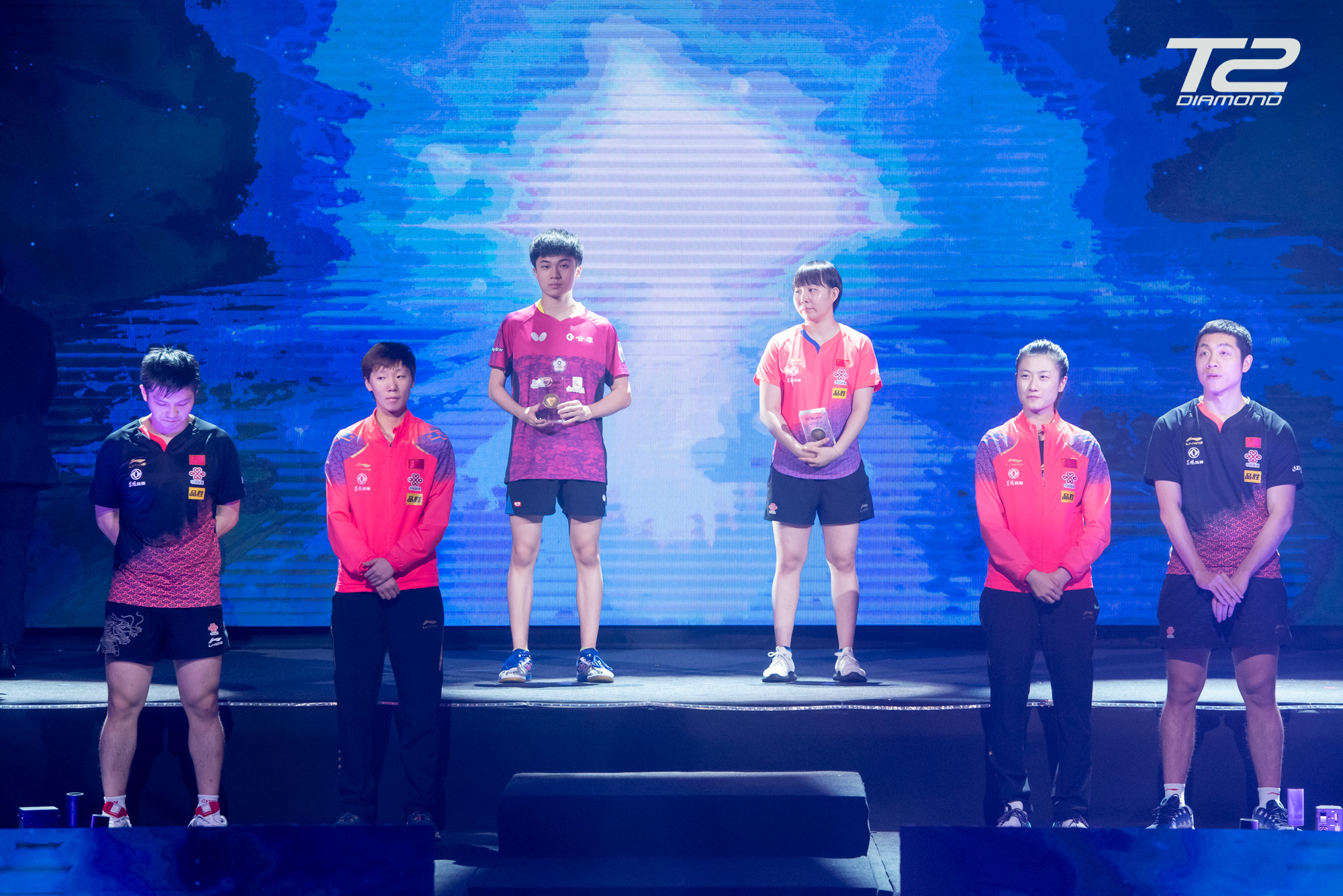 ---
Johor Bahru, 21 July 2019 – All hail the new stars as China's Zhu Yuling and Chinese Taipei's Lin Yun-Ju produced scintillating play to secure the men's and women's crowns at the Seamaster T2 Diamond 2019 Malaysia.
If the quality of the matches is any indication, table tennis fans are surely in for a treat in the coming two legs as this innovative singles competition heads to China's Haikou in September before going to Singapore in November.
If the quality of the matches is any indication, table tennis fans are surely in for a treat in the coming two legs as this innovative singles competition heads to China's Haikou in September before going to Singapore in November.
At the T2Cavern in the Iskandar Malaysia Studios in Johor Bahru, Zhu did not allow compatriot Wang Manyu to settle in as she powered through for the US$100,000 prize money.
Following that, Lin showed no fear against the more illustrious Fan Zhendong as the teenager coupled speed with unerring accuracy to outdo his opponent and prove his earlier wins over Jun Mizutani and Ma Long were no fluke.
Earlier, Ding Ning and Xu Xin secured third places with wins over Miyu Kato and Wong Chun Ting respectively.
ITTF President Thomas Weikert and CEO Steve Dainton attended the final. The tournament marks the first time coloured rubbers and video referral – both ideas from the ITTF Innovation Lab – were used for the first time. Mr Weikert and T2 Chairman Frank Ji gave away the prize money to the winners.
Women's 3rd/4th: DING Ning (CHN) 4 - 0 Miyu KATO (JPN) (11-3, 11-6, 11-9, 11-6)

Miyu Kato prepared for her first meeting with Ding Ning by watching plenty of videos of the three-time World Champion in action. But facing Ding across the table, Kato found out first-hand how difficult it is to play one of the best players China has produced. Ding shrugged off her semi-final defeat to produce a near-flawless display to dominate her opponent. It was not until the third game that Kato managed to finally get ahead, but the 7-6 lead became a 7-9 deficit in an instant, as Ding went on to wrap up the game for a 3-0 lead. Thereafter it was a question of whether Kato could take the encounter into the FAST5 but Ding did not let up as she motored to a 10-5 lead before wrapping up the match and the US$20,000 prize money.
---
---
Men's 3rd/4th: WONG Chun Ting (HKG) 2 - 4 XU Xin (CHN) (11-6, 6-11, 3-11, 11-7, 8-11, 2-5*)

Traditionalists would savour this rare encounter between two penhold players with Xu Xin displaying flashes of brilliance and also moments which left his fans puzzled. Wong Chun Ting did his best to match up and even took two games off the man he considers the master. Xu looked lethargic in his semi-final loss earlier in the day to Fan Zhendong and post-match explained that he was not well. That went a long way to explaining why he wasn't at his usual best but he still had enough reserves to contain the challenge from Wong and take home the consolation 3rd place.
---
Women's Final: WANG Manyu (CHN) 1 - 4 ZHU Yuling (CHN) (9-11, 6-11, 11-7, 7-11, 2-5*)

All through this tournament, Zhu Yuling has done her work quietly and efficiently while attention was paid elsewhere and on other players. Against the tournament topseed Wang Manyu, Zhu kept her focus and got the better of the solid exchanges that the two engaged in. These are two players at the top of their games but Zhu appeared the sharper even when Wang managed to win the third game to narrow the deficit. But Wang was delaying the inevitable as Zhu played the big points better and powered home for the win and the top prize of US$100,000.
---
Men's Final: LIN Yun-Ju (CHN) 4 - 1 FAN Zhendong (CHN) (11-7, 11-4, 8-11, 11-5, 5-0*)

He was the underdog in practically every encounter but Lin Yun-Ju never played like one. The 17-year-old Chinese Taipei paddler won over many fans and served notice that he's a star on the rise. If the win over Jun Mizutani in the opening round raised eyebrows, he followed up with the big scalp of Ma Long. Against Fan Zhendong in the final, Lin never froze. He simply buckled down and played with the same fearless aggression and breakneck speed, not allowing his opponent to settle down. Controlling the game for the most part, Lin showed maturity to shrug off a Game 3 loss to win the next game to get himself back on winning path. The 5-0 win in the FAST5 was the perfect ending for Lin who stirring run netted him his biggest career paycheque.
---
*denotes FAST5 game
---
Player Quotes
After losing the semi-finals, I focused on making sure I came to this match with the right mindset. We have plenty of depth in Team China and a very good support system that is nurturing so many young talents, as everyone can see.
Ding Ning
---
I played well in this tournament's first two matches but couldn't keep it up for the next two, so I am a little disappointed with myself. This is my first match against Ding Ning and I find her serves and returns very deceptive and she was simply too good.
Miyu Kato
---
I gave my best in both my matches today. Reaching the final four here is an achievement for me and not something I expected coming here, so I am satisfied.
Wong Chun Ting
---
I woke up not feeling well today, maybe it's the lethargy of several consecutive weeks of tournaments. Taking 3rd place here was not an easy feat. I want to thank my fans for bestowing me so many nicknames, that shows they love me and I would welcome more.
Xu Xin
---
She played her shots well, especially the strong spin she put on the ball. I've improved in many areas since coming here for the T2APAC two years ago but there's still plenty of room for improvement.
Wang Manyu
---
I've fought hard in every match here and the final was a continuation of the form I showed in the earlier matches. I've not played Manyu for a while and felt I executed my game plan better today.
Zhu Yuling
---
I'm satisfied with how I performed in the final, I fought hard for every point. I shall continue training hard and hope to keep on doing well.
Lin Yun-Ju
---
He played outstandingly and I was not able to get going in the first two games. I won't make excuses for this defeat and it was obvious he was better today, so I will need to go back and work out how to do better.
Fan Zhendong
---