Zhu Yuling and Wang Manyu set up all-China women's final as Chinese Taipei's Lin set to give Fan Zhendong a run for his money.
---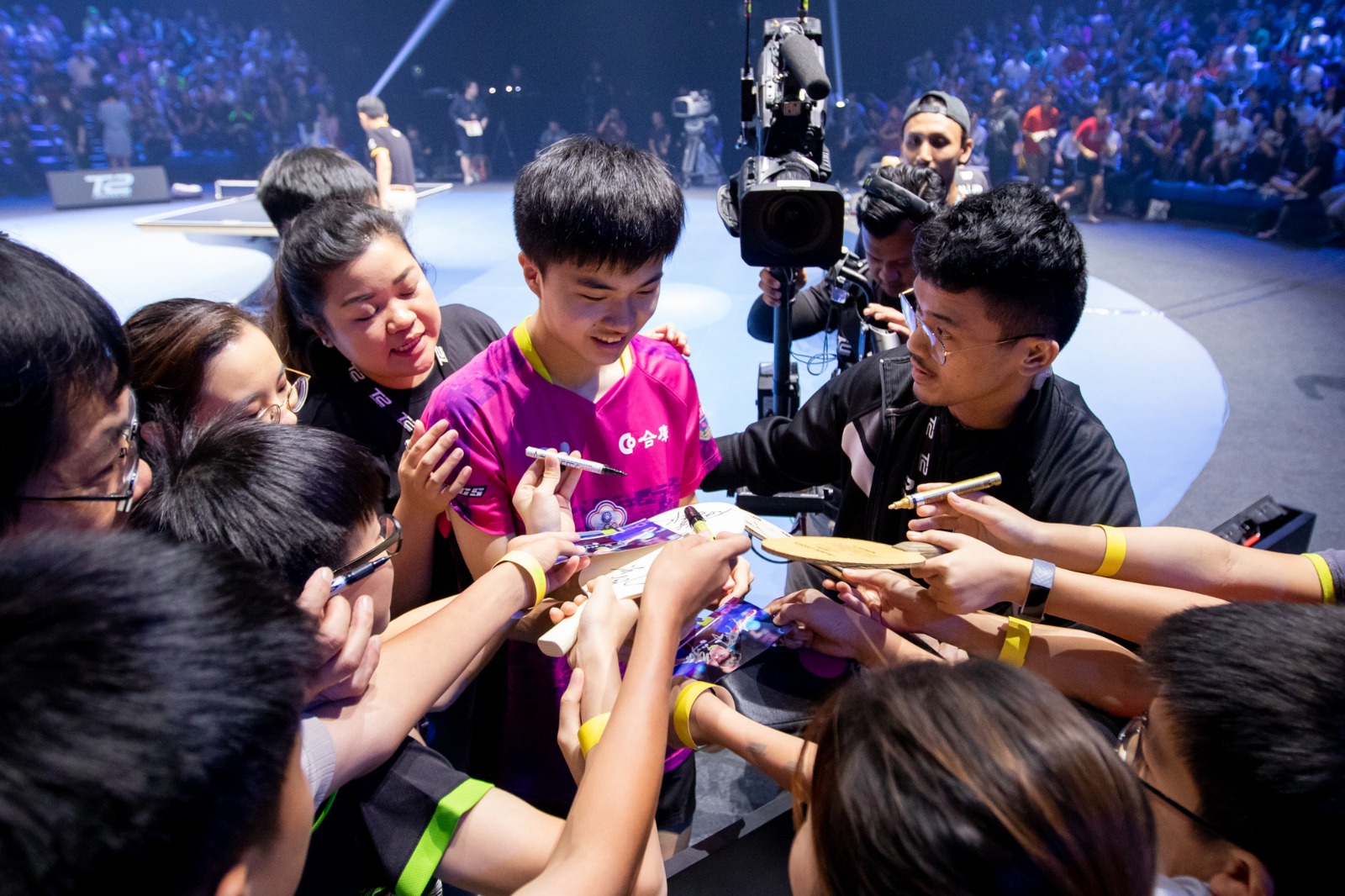 ---
Johor Bahru, 21 July 2019 – A day after ousting Chinese great Ma Long from Seamaster T2 Diamond 2019 Malaysia, Chinese Taipei teenager Lin Yun-Ju showed he is the real deal with a commanding win over Hong Kong's Wong Chun Ting to move into the biggest match of his young career.
The 17-year-old's no-holds-barred style of play has won over many fans at the T2Cavern and many would be cheering for him when he faces Fan Zhendong in the men's final later today. Fan enjoyed a surprisingly lopsided win over team-mate Xu Xin, and will start as favourite to win the Malaysian tournament and the US$100,000 at stake.
In the women's draw, Miyu Kato's stirring run came to a tame end against Zhu Yuling. Zhu will face Wang Manyu who prevailed in a hard-fought 7-setter over Ding Ning to continue her recent mastery over the Chinese superstar.
---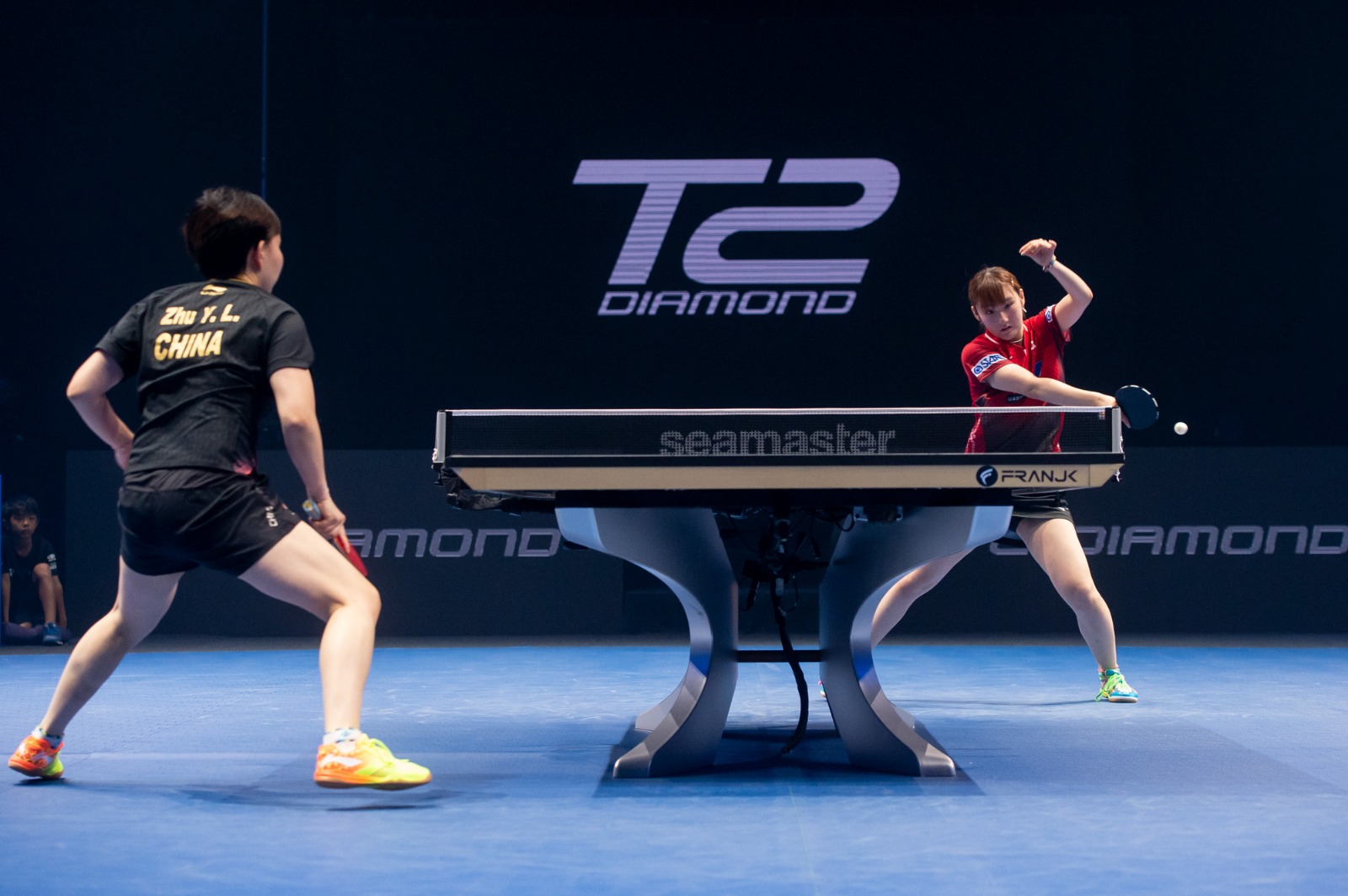 ---
Match 25: ZHU Yuling (CHN) 4 - 0 Miyu KATO (JPN) (11-6, 11-3, 11-7, 11-6)

Miyu Kato's giant-killing run came to a stop as she found Zhu Yuling simply too good on the day. Japan's flagbearer in this tournament could not cope with her opponent's deceptive serves and sharp returns as Zhu quickly took control and never let-up. Kato even saw her Tomahawk serve sent back with interest. Game 3 saw the final point go to video referral as the umpire asked for a second look at whether the ball grazed the table and away from Kato's reach. This new feature from the ITTF Innovation Lab proved without a doubt the ball caught the merest of edges as Kato went 3-0 down. Zhu gave Kato no chance of a fightback as the Chinese player completed victory within 24 minutes.
---
---
Match 26: LIN Yun-Ju (TPE) 4 - 0 WONG Chun Ting (HKG) (11-9, 11-6, 11-8, 11-7)

Lin Yun-Ju kept up his fearless performance at the T2Cavern with a commanding win over Wong Chun Ting to book himself a place in the title-decider. Having admitted to not giving himself much of a chance in this, the 17-year-old from Taiwan is now one win away from picking up US$100,000. Against Wong, Lin fell 5-9 behind in the opening game but reeled off six straight points to be the first on the board. His confidence boosted, Lin streaked to a 5-0 lead in the second game, attacking the ball early and instinctively to put Wong on the back foot. The Hong Kong player simply could not cope with Lin's swift returns and had to concede. Having beaten Ma Long and Jun Mizutani in his previous matches, Lin will need one more giant-killing act to record the biggest win of his career.
---
Match 27: WANG Manyu (CHN) 4 - 3 DING Ning (CHN) (8-11, 11-6, 3-11, 11-7, 4-5*, 5-2*, 5-2*)

Wang Manyu has certainly improved by leaps and bounds since she was last in Johor Bahru for the 2017 T2APAC. And it was refreshing to hear Chinese great Ding Ning complimenting her younger opponent and conceding that Wang is the favourite. At the table, both players produced a wonderful display with little to separate them. It was not a surprise that they went to the FAST5 tied at 2-2 and the match would be decided on how quickly one switches into top gear. Ding edged a narrow Game 5 before Wang found her feet to draw level yet again. Wang would go on to dominate the deciding game, and would certainly be a difficult opponent for Zhu Yuling in the final.
---
Match 28: XU Xin (CHN) 0 - 4 FAN Zhendong (CHN) (6-11, 5-11, 5-11, 8-11)

The match did not turn out as many expected with Fan Zhendong completing a commanding 4-0 sweep of Xu Xin. It wasn't just the scoreline but the manner of Xu's capitulation that suggest maybe all is not right with the world's best pen-holder. Fan had it all his way, catching Xu flat-footed on many occasions. Even in the fourth game, when Xu started showing good touches, Fan simply stepped up a gear to complete the blowout.
---
*denotes FAST5 game
---
Player Quotes
She had beaten two very good opponents in the previous rounds so I placed myself in the mindset to challenge her instead of thinking I'm the favourite.
Zhu Yuling
---
Her serves and receives were very sharp and I couldn't cope with that, which is why I lost today. The atmosphere here at the T2Cavern is superb and I hope to be back.
Miyu Kato
---
I think I went into the match with the right mindset. I stayed calm and played my normal game. I've not thought much about who I want to meet in the final nor what to do with the prize money from here.
Lin Yun-Ju
---
In our previous meetings there were points where he had me in trouble and today, he exploited those weak areas of mine. He's beaten players from China before and is proving to be a very strong player.
Wong Chun Ting
---
Ding Ning is such a great champion, and I continue to learn from her, whether in training or in competition. I think I'm able to go into matches with a good mindset and that has certainly helped with my performance.
Wang Manyu
---
I'm happy with the way I played today but this is how matches go, and we adjust as we go. I've not been beating her recently so it was really me putting pressure on her. I hope the final will be of the highest quality.
Ding Ning
---
He's been on good form this tournament and he's bounced back quickly from previous defeats and adjusted his mindset really well.
Xu Xin
---
I didn't expect a straight games win over Xu Xin today. Perhaps he's still a bit tired from his previous matches.
Fan Zhendong
---