Grammy Award-Winning Music Producer Craig Bauer and Multi-Platinum Awarded Anthony J. Resta Team Up to Produce Explosive Opening Track for Seamaster T2 Diamond 2019 Malaysia.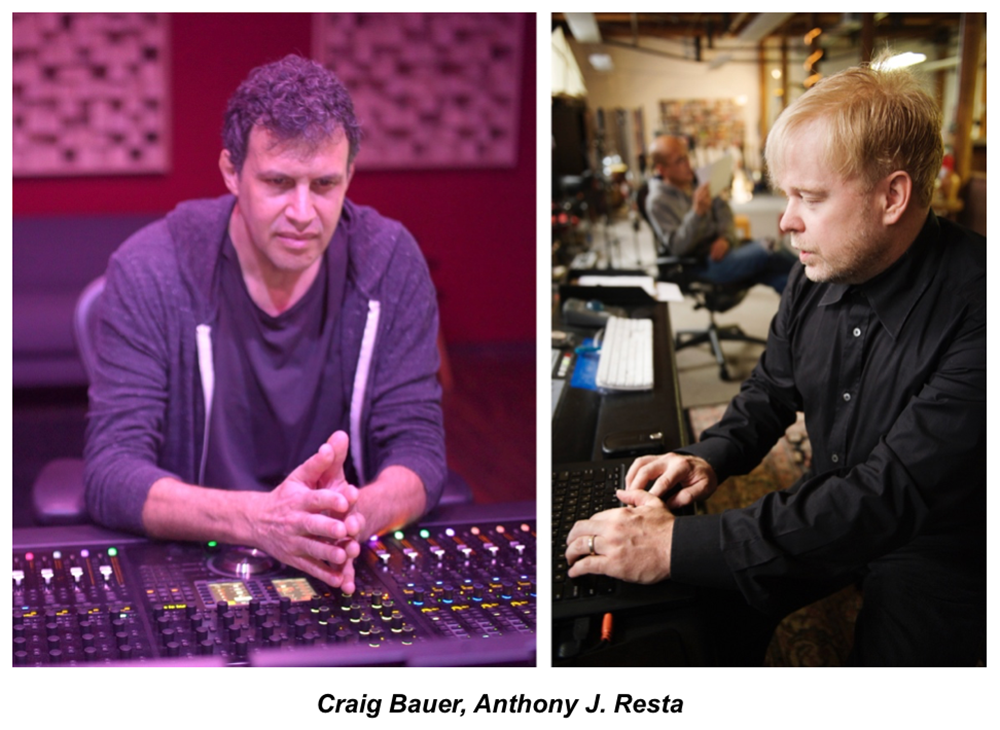 Singapore, 27 June 2019 – With just under one month left to the Season 2 opening of Seamaster T2 Diamond 2019 Malaysia (T2 Diamond), a table tennis experience like no other is awaiting fans from around the world. For the first time, audiences around the world will find themselves in the heat of the action as the world's best table tennis players compete around the table tennis world's first-of-a-kind circular field of play. Set against a sensational and immersive production of concert lights and sounds, the spectator experience will be brought to the next level in the field of entertainment.
As the countdown begins, T2 Diamond has announced its collaboration with Grammy Award-winning producer Craig Bauer and multi-platinum awarded Anthony J. Resta, who will be delivering a musical experience set to get the heart racing, and adrenalin pumping to the start of the season.
The opening track will be unveiled for the very first time at Seamaster T2 Diamond 2019 Malaysia, the first in a series of three events, taking place from 18 – 21 July 2019 at Pinewood Studios, Johor, Malaysia.
Teasing the track, the duo shared that it is one of the most phenomenal works that the two of them have ever produced together, with a cross-generational aesthetic that combines electronica, EDM, 80s, and even classical elements with a lot of energy and surprises.
Anthony J. Resta shared,
---
The inspiration for this and every project is always to create lasting sonic art that is fearless, emotional and real. By real, I mean that human passion and feel is present via real instruments. We make all of our sounds from scratch using a combination of vintage, analogue and modern gear.
---
Anthony and I began the production of the track for the light show without a clue as to what, how and where we were going to approach this. We did formulate early on that we didn't want to be a typical "EDM" style production. After a little discussion and a first round of experimentation, an idea was born that became the basis for the track.  It proved to be a bit challenging to implant the idea but we ultimately made it work,
---
added Craig Bauer.
---
The finished production of this track is unlike any other piece of music I've had the honour to co-produce and mix in my career. Now it's final, finished state, it ranks as one of my favourite pieces of musical art I've had a hand in creating in my career. I'm excited for everyone to finally hear it.
---
Anthony J. Resta is an American record producer and musician. A multi-instrumentalist, he is known for his use of vintage audio gear and has earned 12 RIAA certified gold and multi-platinum awards. Over the course of his career, he has worked with many legendary acts such as Blondie, Duran Duran, Elton John, and Megadeth. Craig Bauer is an American Grammy Award-winning record producer and mixing engineer who has worked with world-famous artists such as Kanye West, Justin Timberlake, Rihanna, and Lupe Fiasco.
The track will accompany the one-of-a-kind T2 Diamond light show which will play in the T2Cavern to kick-off the tournament, a breath-taking audience experience that sets the stage for the exhilarating action across the four-day event.
Be the first to catch all the lights, sound and action at Seamaster T2 Diamond 2019 Malaysia. Tickets are now available for sale from MYR 39 to MYR 149 on AirAsia RedTix.
| Event Name | Dates | Venue |
| --- | --- | --- |
| Event 1: Seasmaster T2 Diamond 2019 Malaysia | 18 - 21 July 2019 | Pinewood Iskandar Malaysia Studios |
| Event 2: Seasmaster T2 Diamond 2019 China | 26 - 29 September 2019 | Mission Hills Resort, Haikou, China |
| Event 3: Seasmaster T2 Diamond 2019 Singapore | 21 - 24 November 2019 | Our Tampines Hub, Singapore |