Defending women's champion Szocs falls to Ding Ning as Japan has a day to forget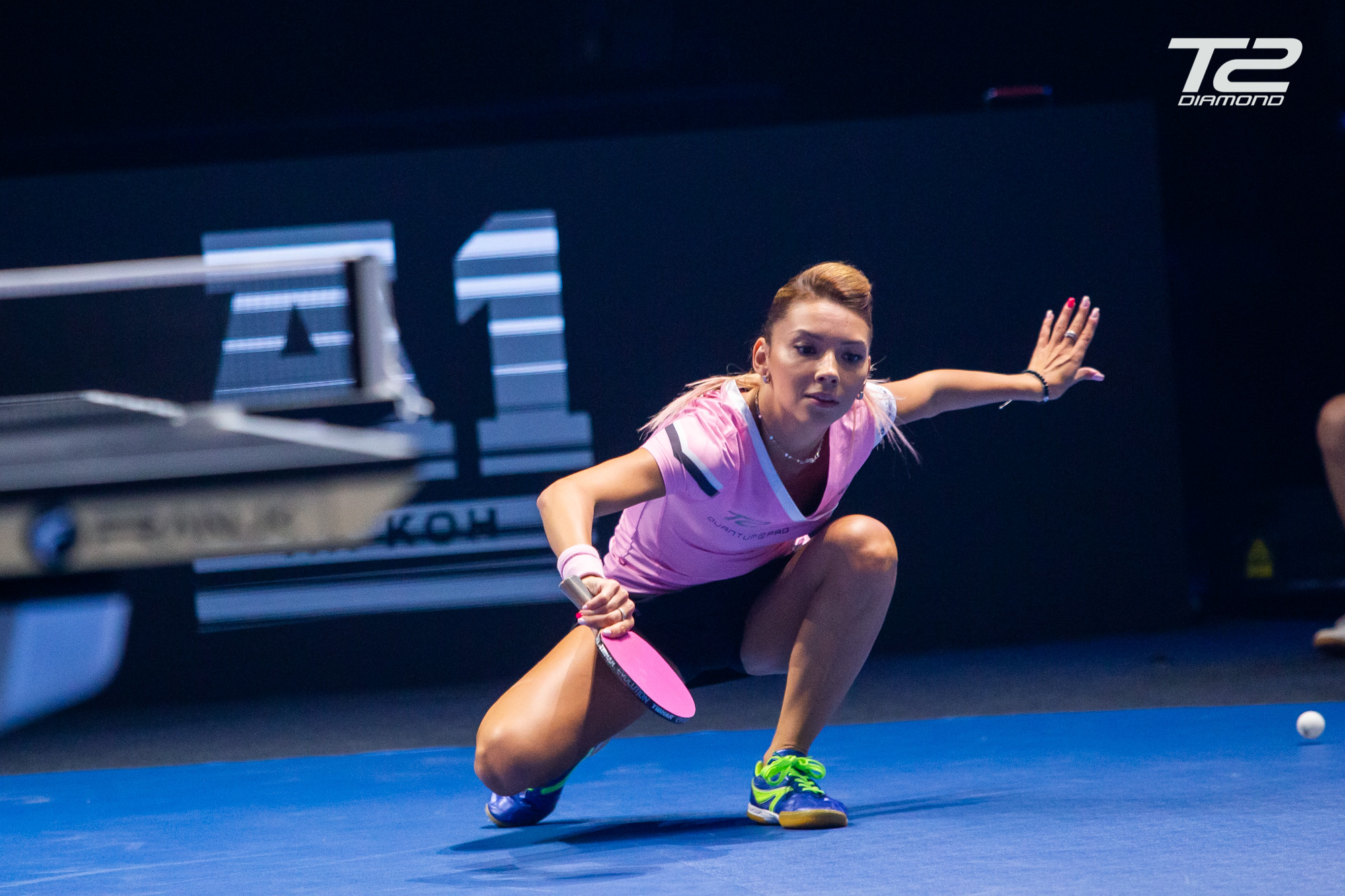 Johor Bahru, 19 July 2019 – The Round of 16 at the Seamaster T2 Diamond 2019 Malaysia wrapped up with four more matches, with Europe celebrating the victories of Mattias Falck and Patrick Franziska over Asian opponents.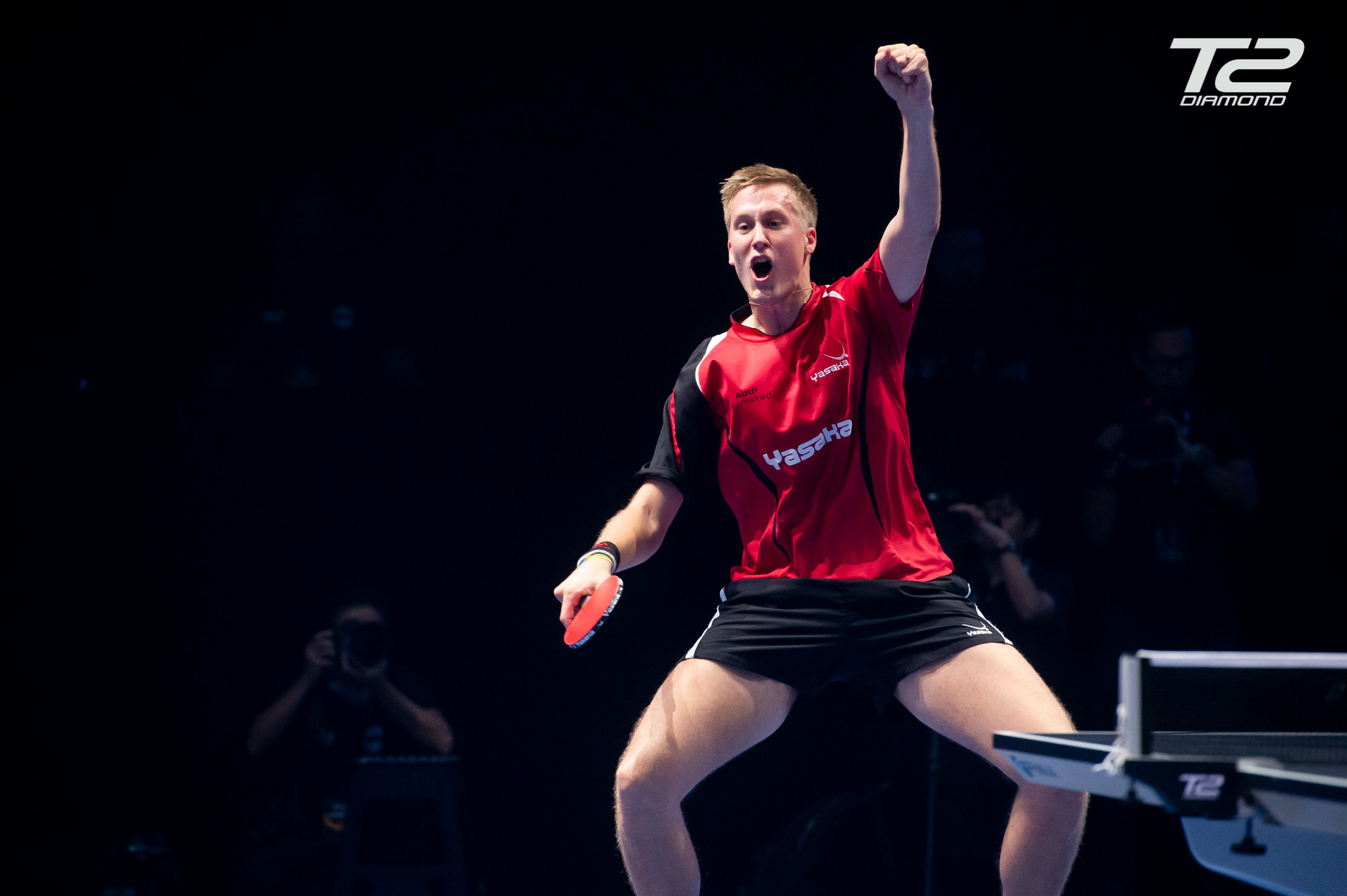 Both tapped on their recent vein of form to record identical 4-2 victories – with Falck topping Japan's Koki Niwa while Franziska prevailed in a slugfest with China's Liang Jingkun.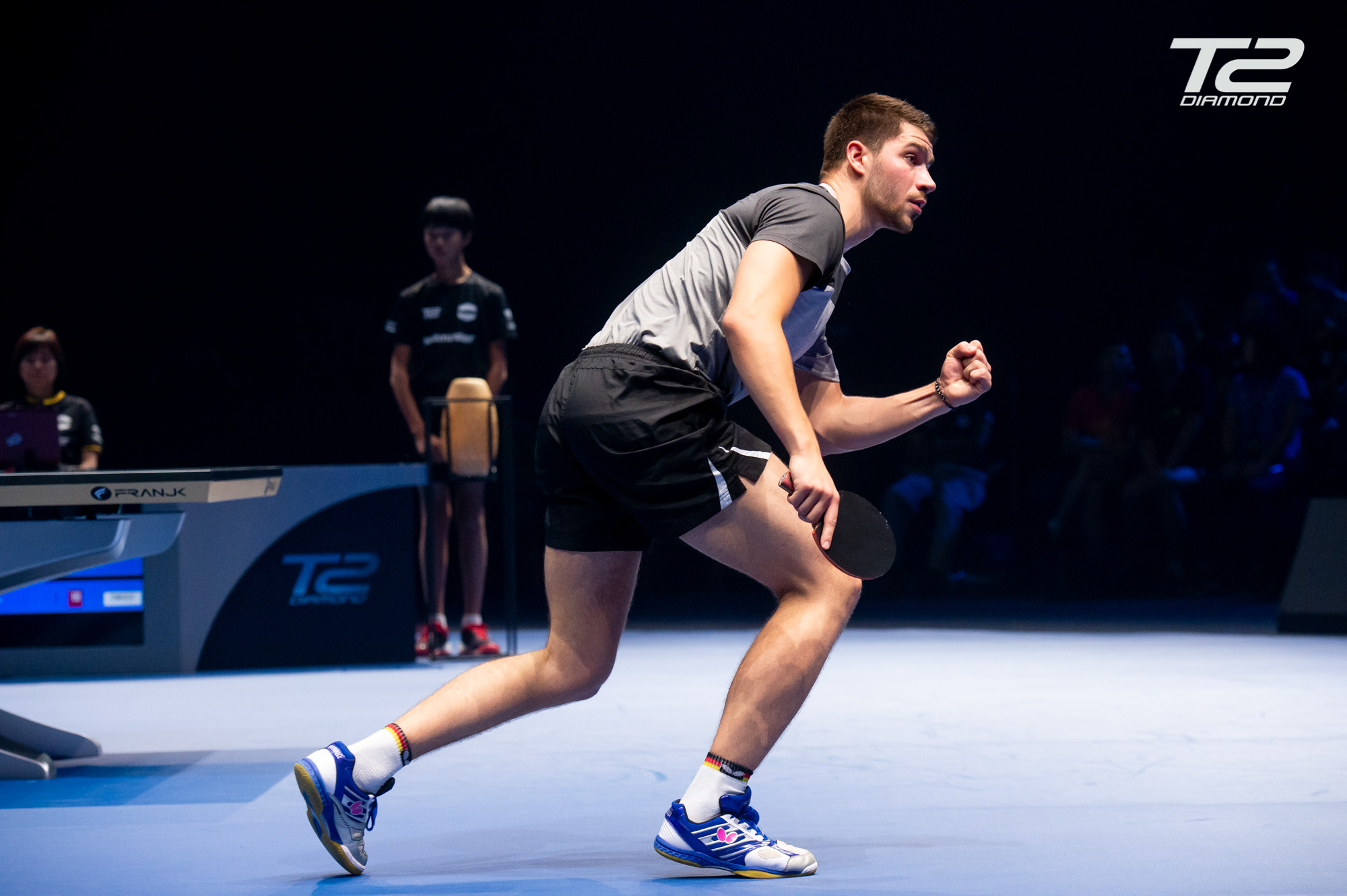 Fans at the Iskandar Malaysia Studios in Johor Bahru had looked forward to the return of 2017 women's champion Bernadette Szocs, and she delighted the spectators at the T2Cavern with her colourful outfit and a new pink rubber on one side of her bat. Cheers rang out when she took the first game against Ding Ning but that was as far as the Romanian went.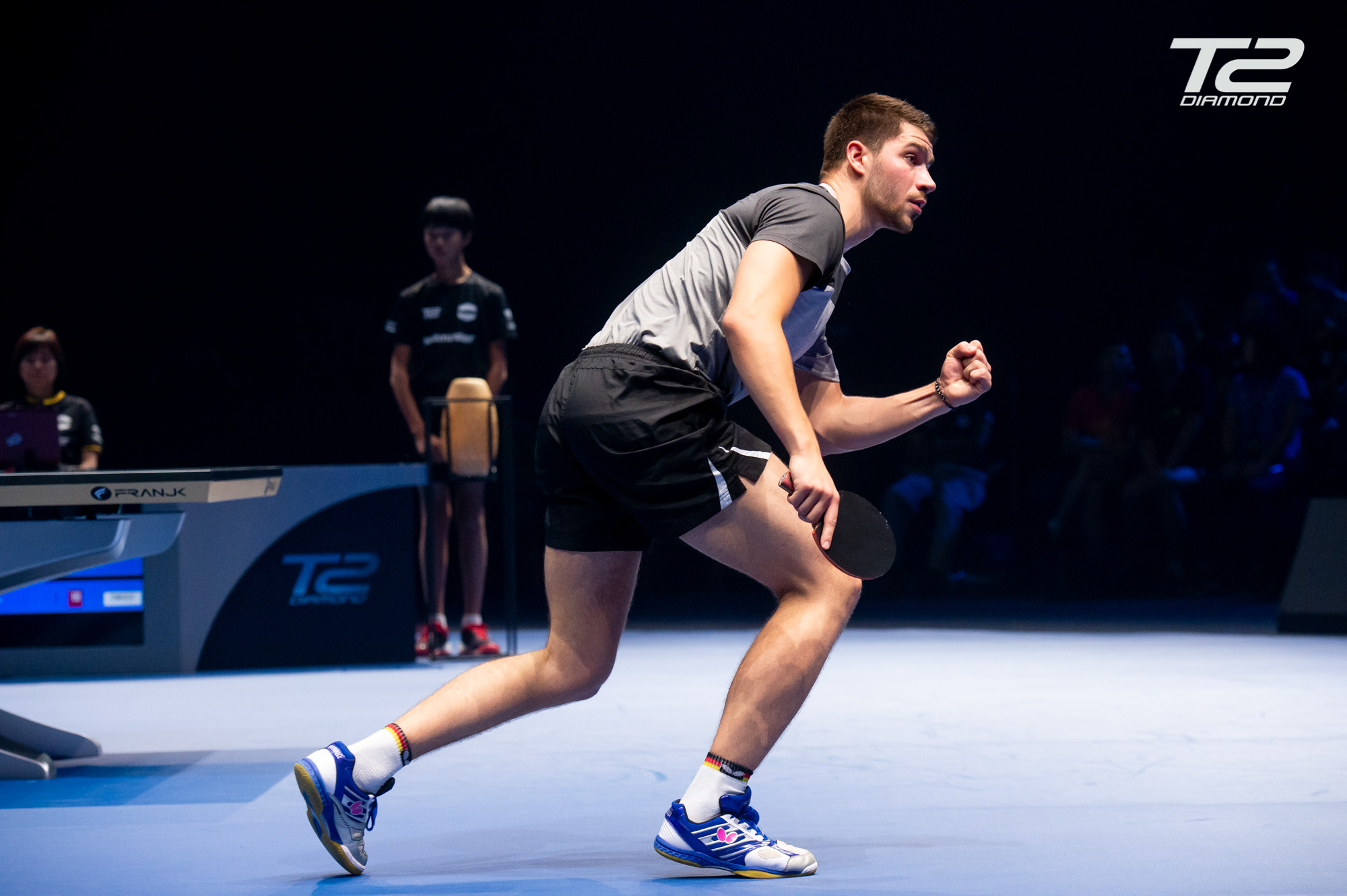 width="" height="" align="" stretch="0" border="0" margin_top="20" margin_bottom="20"]
Kasumi Ishikawa fought valiantly but could not recover from going 3-0 behind against Zhu Yuling, with her defeat completing a miserable day for Japan.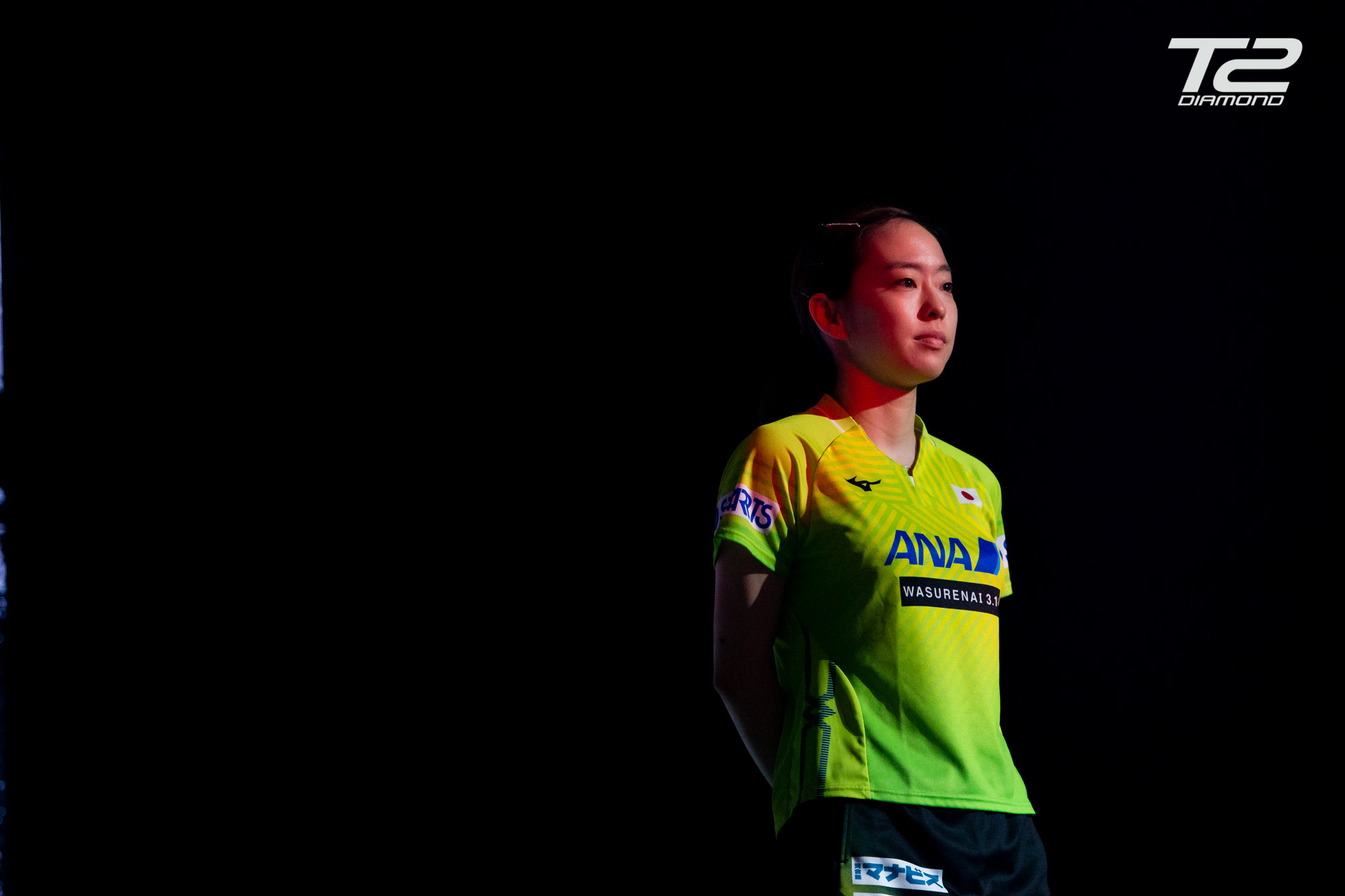 Match 13: Koki NIWA (JPN) 2 - 4 Mattias Falck (SWE) (8-11, 8-11, 10-11, 11-10, 5-2*, 2-5*)

Mattias Falck credits marriage for his new-found confidence which has seen him rising to his career-high ranking in the world Top 10. Against Koki Niwa, whom he's beaten in recent encounters, Falck showed plenty of endeavour as he towered over his opponent both in stature and in play. Despite falling behind in the first three games, Falck came back to win all three to seize a commanding 3-0 lead. Niwa edged a tight fourth game and took the first FAST5 game but was unable to prevent Falck from securing the second FAST5 game and a place in the final eight.
---
---
Match 14: Bernadette Szocs (ROU) 1 - 4 DING Ning (CHN) (11-5, 4-11, 7-11, 2-11, 2-5*)

There is little doubt 2017 T2 APAC Champion Bernadette Szocs is the darling of the fans in Johor Bahru but beating Chinese great Ding Ning must be a daunting task. Nevertheless, Romanian sent ripples around the T2Cavern by taking the first game and catching out Ding who looked barely warmed up. Dropping the first set woke up the Chinese player who stepped up her play to dominate the match thereafter, handily winning the next three games. Szocs' hopes for a way back via the FAST5 was quickly doused as Ding duly won the game to seal victory.
---
---
Match 15: LIANG Jingkun (CHN) 2 - 4 Patrick FRANZISKA (GER) (10-11, 11-4, 8-11, 11-7, 1-5*, 3-5*)
While there are no easy matches in T2 Diamond, it was perhaps Liang Jingkun's misfortune to draw Patrick Franziska first up. The German player's confidence is sky high, having beaten Fan Zhendong in the lead-up to this event. And he played in the same fearless manner, taking the game to Liang, whose attempt to seize the early initiative was continually hampered by a lack of accuracy. Evenly matched throughout, Liang and Franziska even served up an exhibition rally in the fourth game that had the spectators cheering long and hard. It came down to who could master the FAST5 and Franziska kept a better composure to close out the match and book a quarter-final meeting with Wong Chun Ting.
---
---
Match 16: ZHU Yuling (CHN) 4 - 1 Kasumi ISHIKAWA (JPN) (11-6, 11-7, 11-0, 7-11, 11-8)
Kasumi Ishikawa was left with the unenviable task of carrying the mantle for Team Japan on Day 2 at the Seamaster T2 Diamond Malaysia but Zhu Yuling was in no mood to be charitable. Slow off the mark, Ishikawa conceded the first two games despite taking the fight to her opponent, and it took plenty of courage for her to recover from a disastrous 11-0 third game loss to get herself on the board by winning Game 4. For the first time, four games were completed within 24 minutes, meaning the fifth game will also be played to 11 points. Needing to win, Ishikawa fought bravely but was unable to stave off defeat.
* denotes FAST 5 game
---
---
Player Quotes
I tried to get back into the match after winning the third game but he just kept up the pressure and was the better player today. I need to keep working on improving my play.
Koki Niwa
---
I stalled a bit after the third game and the points were going by very fast, But I've been playing well lately and I could call on that for confidence, I feel I'm in good shape and maybe marriage has helped me. It will be tough against Xu Xin but I hope to be able to produce my best form against him.
Mattias Falck
---
I wanted to defend my title in Johor Bahru but I knew it was going to be very difficult. I lost to a great player, an Olympic champion and I'm happy to have made it a competitive match with her.
Bernadette Szocs
---
This is our first encounter in recent years and I didn't settle in fast enough and dropped the first set. But I made my adjustments quickly and was able to overcome her. This tempo of this competition is high, and the FAST5 simply makes it far more exciting.
Ding Ningi
---
I think I was a bit too nervous today and did not perform to my best, and the FAST5 was also new to me.
Liang Jingkun
---
I came here with a lot of confidence, especially after beating Fan Zhendong last week. This is a great venue, I really enjoy playing here and the spectators are so supportive.
Patrick Franziska
---
I last met her in competition a year ago, so it was more about getting myself ready to produce my best form. It was all about playing my best for every point regardless of the score.
Zhu Yuling
---
The early part of the match was difficult for me as I had trouble with receiving her serves.
---
---
• Seamaster T2 Diamond 2019 Malaysia sponsors include: Seamaster (Title Partner), Pocari Sweat (Platinum Partner), Tibhar, Zen-noh (Silver Partner), Fraser Place, A1 A.K. KOH, 98 Group (Official Suppliers). Tickets are available for sale from MYR 39 to MYR 149 on AirAsia RedTix.

• Official T2 Diamond merchandise available online at https://store.t2apac.com/

• Spectators can also check out the delicious fare served at the food trucks at the venue
---
---
About International Table Tennis Federation (ITTF):
The International Table Tennis Federation is the global governing body of Table Tennis. Affiliated to six Continental and 226 National Associations, the ITTF coordinates over 100 international events per year and has long been represented at both the Olympic and Paralympic Games.

In accordance with its Strategic Plan, the ITTF is fully committed to growing the sport in five key areas: Organisation & Governance, High Performance & Development, International Events, Promotion and Revenue.

Find out more about the International Table Tennis Federation at ITTF.com.

Media contact: media@ittf.com


---
About T2 Diamond Table Tennis League (T2 Diamond):
T2 Diamond Table Tennis League is the most prestigious series of annual professional events organised in collaboration with the International Table Tennis Federation. T2 Diamond 2019 will feature 32 of the world's best men's and women's players competing across three tournaments for a combined prize purse of USD 1.5 million, and bonus ITTF World Ranking points as they battle their way to 2020 Tokyo Olympic qualification. The revolutionary league employs a unique competition format and various other innovations that catapult table tennis into a truly entertaining spectator sport, whilst providing players with the ultimate environment in which to compete and excel.

Headquartered in Singapore, with offices in Shanghai, Tokyo and Chicago, T2 Diamond is committed to unlocking the true commercial potential of table tennis by expanding its appeal through its high quality, immersive content and venue experience.

Find out more about T2 Diamond at www.t2diamond.com

Follow us on: 
 | | 


Media contact: media@t2apac.com