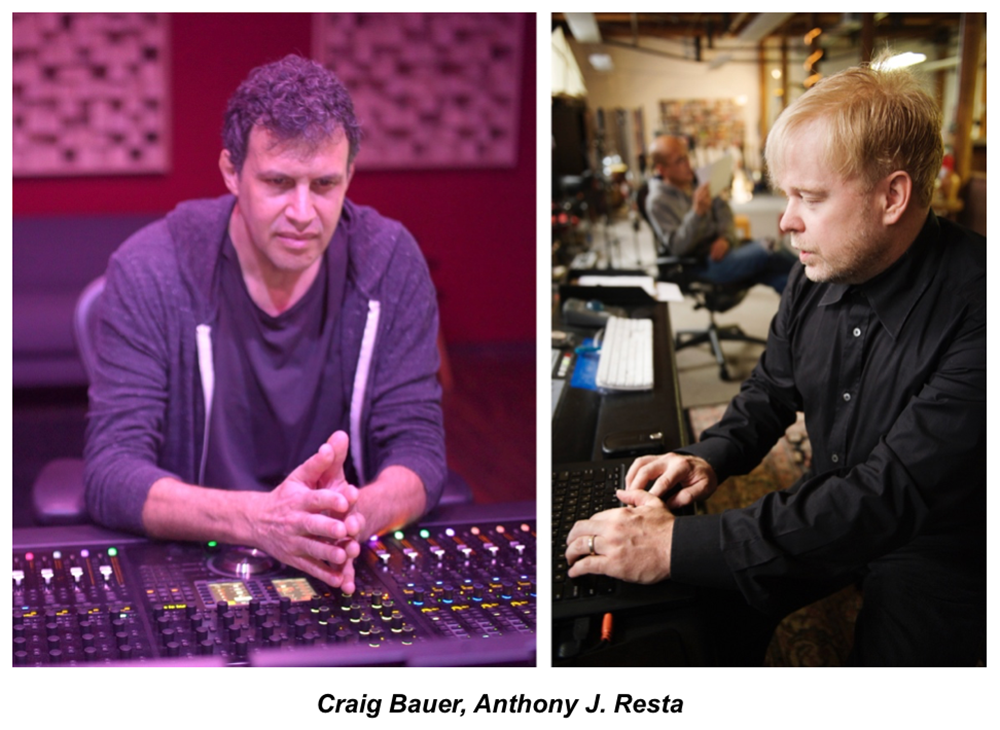 At first glance, table tennis and a pair of award-winning record producers might not seem like the likeliest bedfellows. Craig Bauer and Anthony J. Resta tend to agree.
Craig Bauer is an American Grammy Award-winning record producer and mixing engineer who has worked with world-famous artists such as Kanye West, Justin Timberlake, Rihanna, and Lupe Fiasco. Anthony J. Resta is a multi-platinum awarded record producer and musician. A multi-instrumentalist, he is known for his use of vintage audio gear and has earned 12 RIAA certified gold and multi-platinum awards. Over the course of his career, he has worked with many legendary acts such as Blondie, Duran Duran, Elton John, and Megadeth.
Typically speaking, the two worlds between musicians and sports rarely collide. Even though Craig used to enjoy playing ping pong in his younger years, it's been a good 15 years since he last picked up the paddle. Together with Anthony, the two are very much stepping into unchartered territory for their collaboration with Seamaster T2 Diamond 2019, a pan-regional first-of-its-kind professional table tennis league that is set to thrill and dazzle with the opening of its first event on 18 July 2019.
We managed to catch Craig and Anthony for a little chat, and the duo spoke to us about the T2 Diamond track, the creative process, and shared their passion for music.
Q: What can audiences expect from this track?

Anthony: We don't want to give away too much because we feel like it is very original and it has got lots of energy. There are surprises that we want people to experience when they hear it for the first time. When I heard it in the studio, it felt like my head was going to cave in. It was beyond what I was picturing. It almost felt like it sucked me into the speakers!

Craig: There is a cross-generational aesthetic to this track, with an amalgamation of different styles including electronica, 80's throwback and some classical elements that make it a little avant-garde. When you are at the venue, it is going to be extremely explosive and different from what you would expect the opening light show to sound like.
Q: What was it like working together?

Bauer: I don't think I could have done it without Anthony. I'm always amazed every time I hear something that he does. I don't even know how he comes up with these ideas! For me, I'm really good at taking ideas that are already there and then, finding the best version of those ideas. Anthony and I make the perfect team!
Q: What was the work process like for this track?

Bauer: The core basis of the track is composed by Anthony. He provided the initial production of this track, and I suggested some changes. We added in some time here and there, took some elements in and out, and came up with the whole concept for the intro. It is a truly collaborative process. Once the production was online, it came to my studio, and I spent a handful of days doing the mix and moving things around, adding and doubling up on some sounds. We had our notes back and forth and came up with the final product.
---
Q: Where did you get your inspiration for this track?

Resta: I had the beginnings of an unused track sitting on my hard drive. I really liked some of the rhythmic elements and that was a nice springboard for other things. When I started, I was watching a laser light show that the team had sent us. It had really good energy and my inspirations just took off from there.

Bauer: I asked him how he came up with some sounds and some of the ideas and he actually said, "I don't know. I don't even know how it happens.

Resta: It's weird, I don't really understand what I do. I've been doing it for three decades.


Q: Is there any music from sporting events that stood out to you?

Anthony: We Will Rock You by Queen. I'm a huge Queen fan.

Craig: Mine is the Olympics because that's the one I remember hearing as a kid. So, when I think of iconic sports themes, it is always the Olympic theme. It never changed and it's instantly recognizable.
Q: What would you be doing now if you are not in your current profession?

Anthony: I would probably give fishing a go! I just love the thrill of not knowing what is trying to drag you into the water. In New England, I would be out there on the rocks with titanium cleats in, standing by the big surfs with a 10-foot rod down at dawn. With the big waves crashing, it's dangerous but also very exciting!

Craig: I've been doing music since I was eight, I've never had to think about doing anything else. I often think about if I had to stop doing it tomorrow, what I would do and I have no answers whatsoever. I'd hate to disappoint you but I can't answer that question. I have no idea.
Q: Who would win in a table tennis match between the two of you?

Anthony: Craig. He's taller, he's got longer arms.

Craig: I've got bad eyesight. It's a toss-up!
---
---
---
Be the first to listen to the duo's explosive new track at Seamaster T2 Diamond 2019 taking place in Malaysia, China and Singapore. T2 Diamond 2019 Malaysia is taking place from 18 to 21 July 2019 at Pinewood Iskandar Malaysia Studios. Get your tickets now on www.airasiaredtix.com/t2diamondmy.
---