Japanese teenage star unable to overcome Hong Kong opponent as China's Sun Yingsha show ominous form in victory over Chen Szu-Yu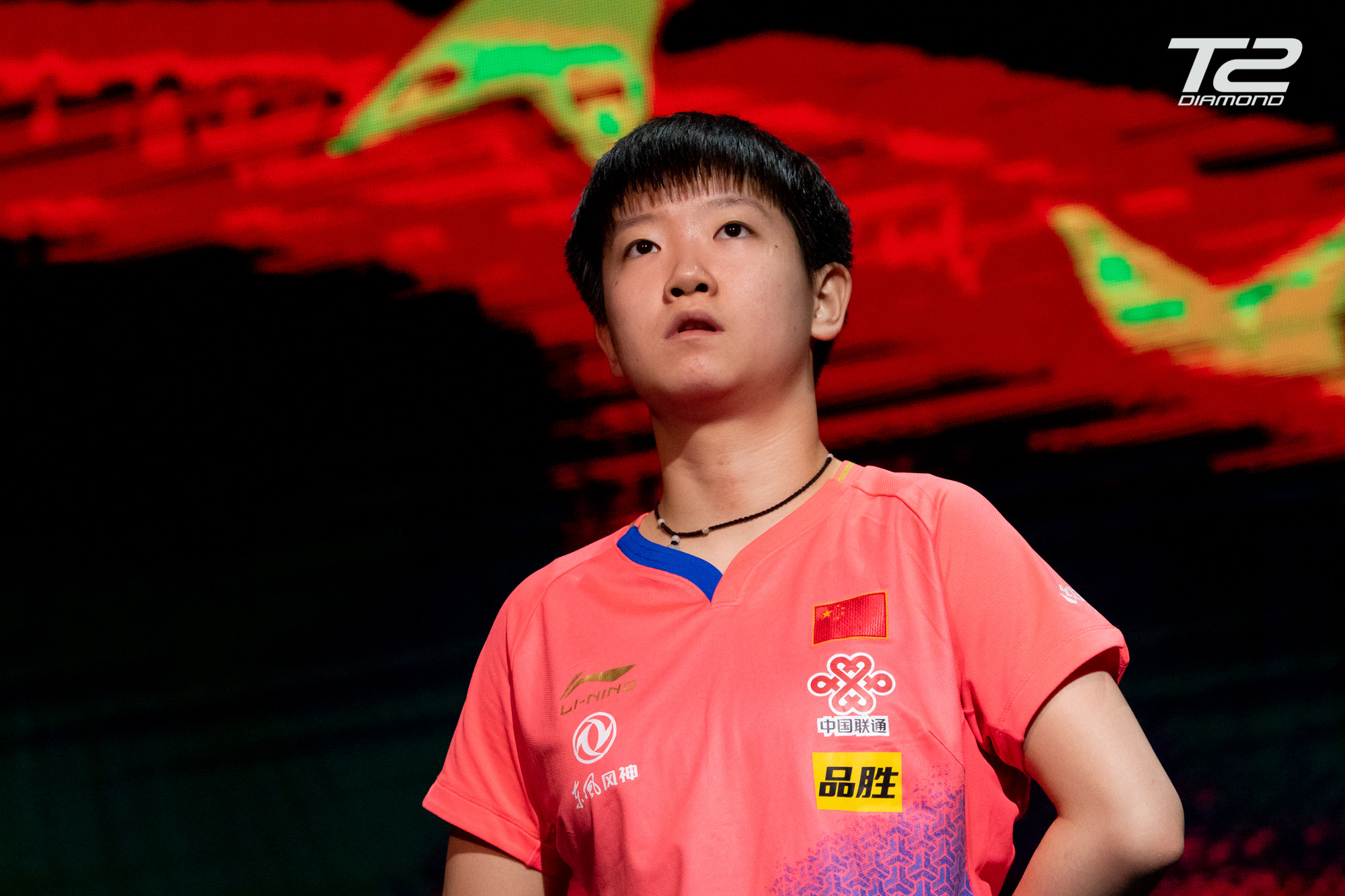 Johor Bahru, 18 July 2019 – Session 2 of Day 1 at the Seamaster T2 Diamond 2019 Malaysia featured four more top-class matches as fans at Iskandar Malaysia Studios in Johor Bahru were treated to more table-tennis of the highest quality.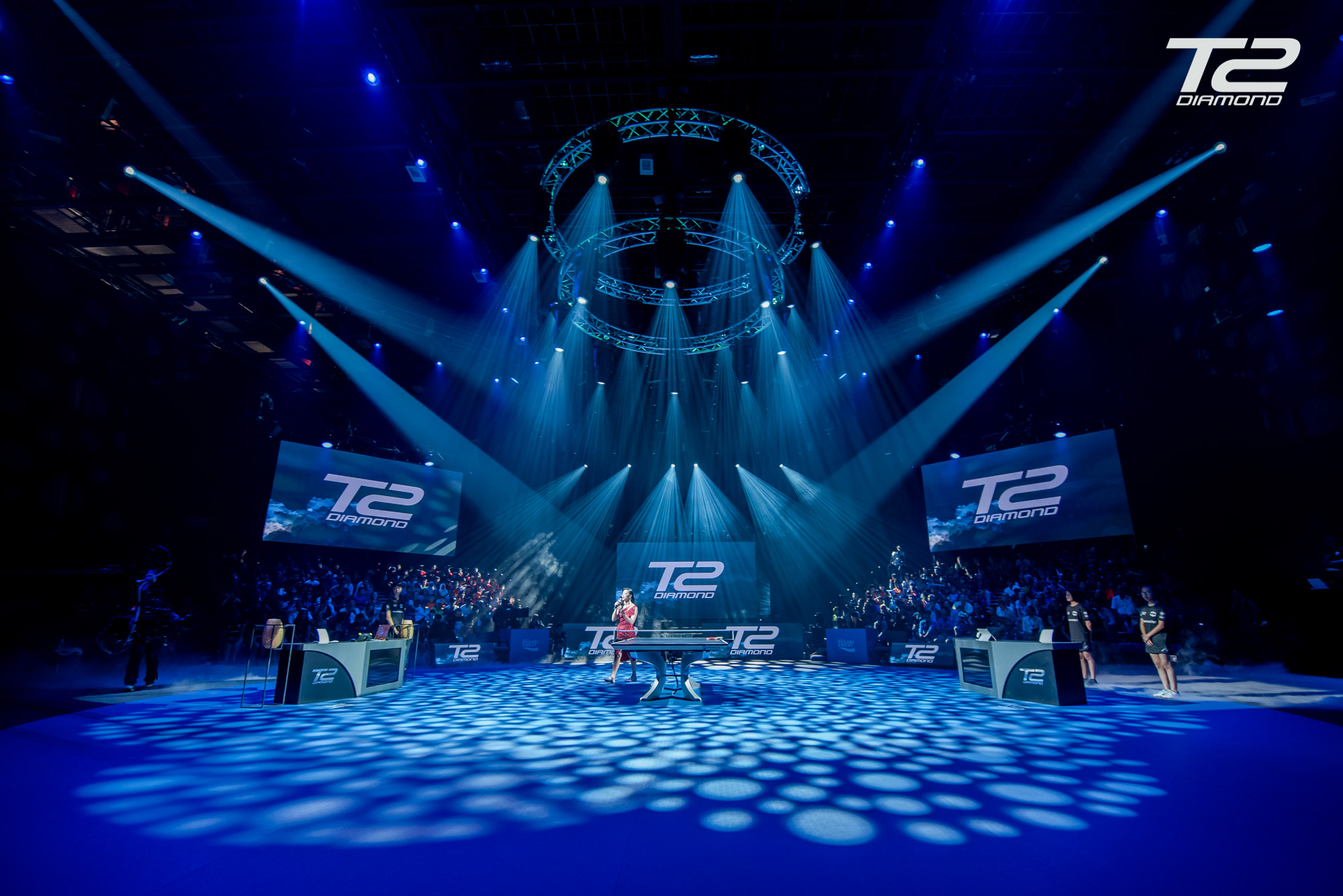 Doubles partners Wang Manyu and Sun Yingsha served up identical 4-0 wins over their respective opponents but it was the manner of Sun's victory over Taiwan's Chen Szu-Yu that will have fans thinking perhaps she can go all the way.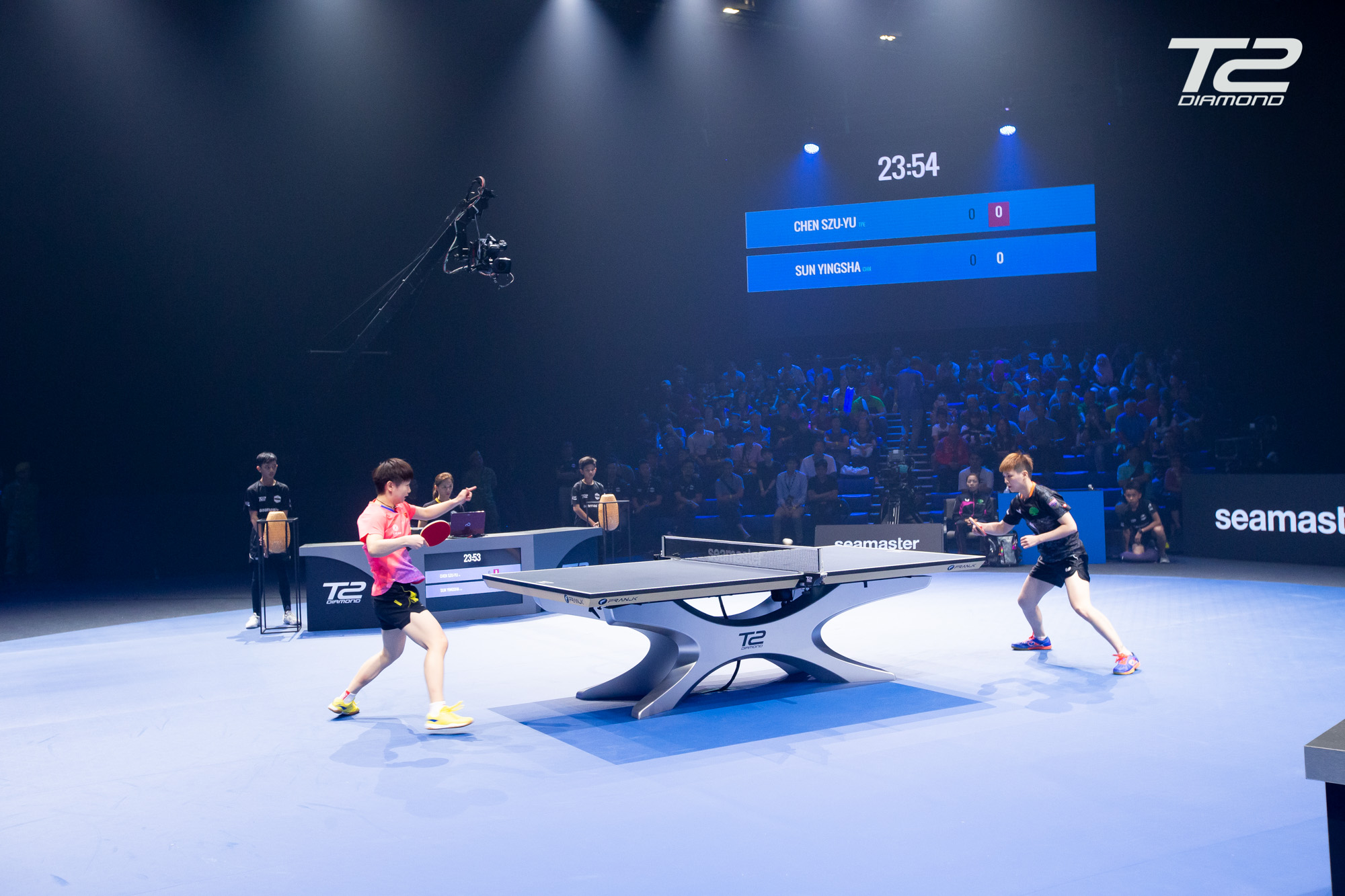 With the table-tennis universe now dominated by players using the shake-hand grip, it was two of the world's best pen-holders who showed the traditional grip is still effective. Xu Xin dominated Dimitrij Ovtcharov before Wong Chun Ting pulled off Day 1's biggest upset by ending Tomokazu Harimoto's campaign in the opening round of T2 Diamond.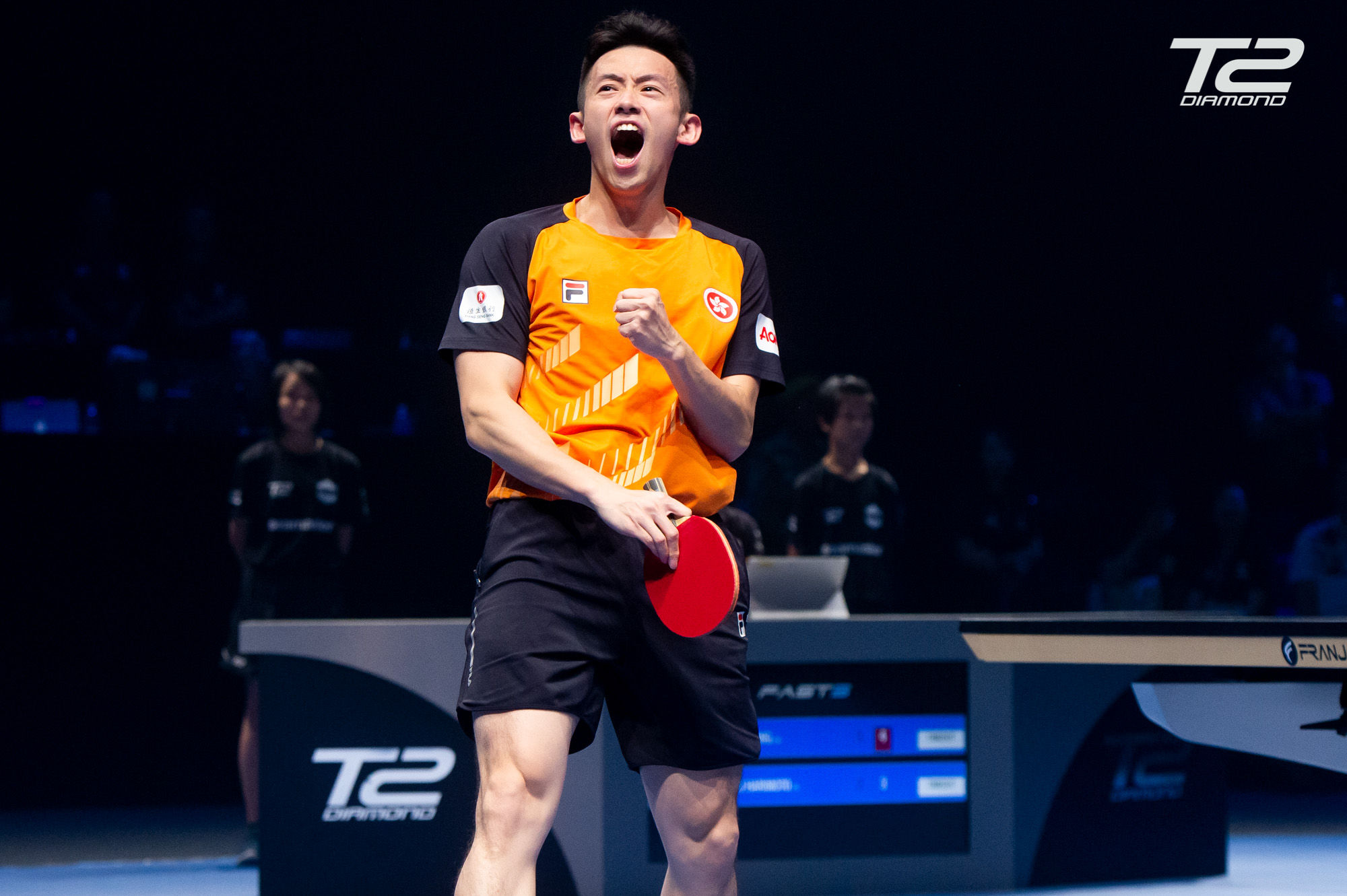 Match 5: WANG Manyu (CHN) 4 - 0 Sofia POLCANOVA (AUT) (11-10, 11-7, 11-3, 11-5)

Topseeded Wang Manyu took time to get into full stride but once she did, the 2018 Asian Games gold medallist recorded the first 4-0 win of this tournament over Sofia Polcanova. A very competitive first game saw Polcanova holding the lead and even had game point before losing by the narrowest of margins. Wang then found a serve that Polcanova could not handle and the Chinese player capitalised on this to dominate the remaining games.
---
---
Match 6: CHEN Szu-Yu (TPE) 0 - 4 SUN Yingsha (CHN) (6-11, 8-11, 3-11, 5-11)

A match played at a frenetic pace with Sun Yingsha following up her doubles partner Wang Manyu's 4-0 win with a similar victory over Chen Szu-Yu. The match featured plenty of high-speed rallies with Chen determined to keep pace with Sun but the Chinese player proved just a fraction quicker and far more accurate. Even when she was 1-3 behind early in the second game, Sun won seven straight points to establish her dominance. Victory was achieved within the 24-minute mark, which is unusual for this format.
---
---
Match 7: XU Xin (CHN) 4 - 0 Dimitrij OVTCHAROV (GER) (11-5, 11-8, 11-7, 11-9)
Dimitrij Ovtcharov pulled out all the tricks from his bag but was unable to record a second career victory over Xu Xin. The Chinese player, one of the best exponents of the pen-grip, gained the advantage early and did not allow Ovtcharov to settle into his game. While the German did take the lead on several occasions, he was unable to convert those into game wins, as Xu simply stepped up his game each time he was behind. It was a victory for Xu in a match he always had control of.
---
---
Match 8: WONG Chun Ting (HKG) 4 - 2 Tomokazu HARIMOTO (JPN) (11-9, 6-11, 11-10, 11-5, 2-5*, 5-3*)
There was no doubt the fans at the T2Cavern were cheering more for Japan's Tomokazu Harimoto who came into this match with a 3-1 career head-to-head record against Wong Chun Ting. Perhaps that was what spurred Wong to raise his game against his teenage opponent, who is already a World Tour Grand Final winner. Wong kept his error-count low, which pressured Harimoto into taking more chances with his shots. Crucially, Wong took 3-1 lead after the regulation 24 minutes, with the match going into deciding FAST5 games. Harimoto needed to win three consecutive FAST5 games to stay alive in the tournament but could only manage one, as Wong recorded the biggest upset of Day 1.
* denotes FAST 5 game
---
---
Player Quotes
I played my normal game but it was quite tough in the first set. But I played myself into the match and things got a lot easier.
Wang Manyu
---
It's a fantastic atmosphere. I was a little bit nervous but I had my chances in the first set. I'm not disappointed with my performance, I did my best today and hope to play in the coming legs.
Sofia Polcanova
---
I didn't get into rhythm quickly enough and my opponent was simply too quick.
Chen Szu-Yu
---
Having played in T2 before, I really looked forward to coming back as I enjoy this format of competition. I've played Szu Yu before and she's a very strong player so I made full preparation to meet her. This win will help me get into form for the coming matches.
Sun Yingsha
---
I'm satisfied with my game. I don't have any targets for this tournament but just want to be happy when I play.
Xu Xin
---
I couldn't play my best game because Xu Xin put a lot of quality into his shots, it was difficult to control his top-spin. My service game was okay but my passive game didn't work against a very tough opponent. It is nice to be back in Johor Bahru.
Dimitrij Ovtcharov
---
I'm really satisfied with my performance. I think he made a few more mistakes today and I took advantage of that. I hope to perform even better in the next match.
Wong Chun Ting
---
I wanted to control the game but he played better than me. I really wanted to get into the next round so I am a little disappointed.
Tomokazu Harimoto
---
---
• Seamaster T2 Diamond 2019 Malaysia sponsors include: Seamaster (Title Partner), Pocari Sweat (Platinum Partner), Tibhar, Zen-noh (Silver Partner), Fraser Place, A1 A.K. KOH, 98 Group (Official Suppliers). Tickets are available for sale from MYR 39 to MYR 149 on AirAsia RedTix.

• Official T2 Diamond merchandise available online at https://store.t2apac.com/

• Spectators can also check out the delicious fare served at the food trucks at the venue
---
---
About International Table Tennis Federation (ITTF):
The International Table Tennis Federation is the global governing body of Table Tennis. Affiliated to six Continental and 226 National Associations, the ITTF coordinates over 100 international events per year and has long been represented at both the Olympic and Paralympic Games.

In accordance with its Strategic Plan, the ITTF is fully committed to growing the sport in five key areas: Organisation & Governance, High Performance & Development, International Events, Promotion and Revenue.

Find out more about the International Table Tennis Federation at ITTF.com.

Media contact: media@ittf.com


---
About T2 Diamond Table Tennis League (T2 Diamond):
T2 Diamond Table Tennis League is the most prestigious series of annual professional events organised in collaboration with the International Table Tennis Federation. T2 Diamond 2019 will feature 32 of the world's best men's and women's players competing across three tournaments for a combined prize purse of USD 1.5 million, and bonus ITTF World Ranking points as they battle their way to 2020 Tokyo Olympic qualification. The revolutionary league employs a unique competition format and various other innovations that catapult table tennis into a truly entertaining spectator sport, whilst providing players with the ultimate environment in which to compete and excel.

Headquartered in Singapore, with offices in Shanghai, Tokyo and Chicago, T2 Diamond is committed to unlocking the true commercial potential of table tennis by expanding its appeal through its high quality, immersive content and venue experience.

Find out more about T2 Diamond at www.t2diamond.com

Follow us on: 
 | | 


Media contact: media@t2apac.com