USA TABLE TENNIS & T2 ANNOUNCES 'THURSDAY NIGHT LIVE : T2 CHALLENGE' SERIES
---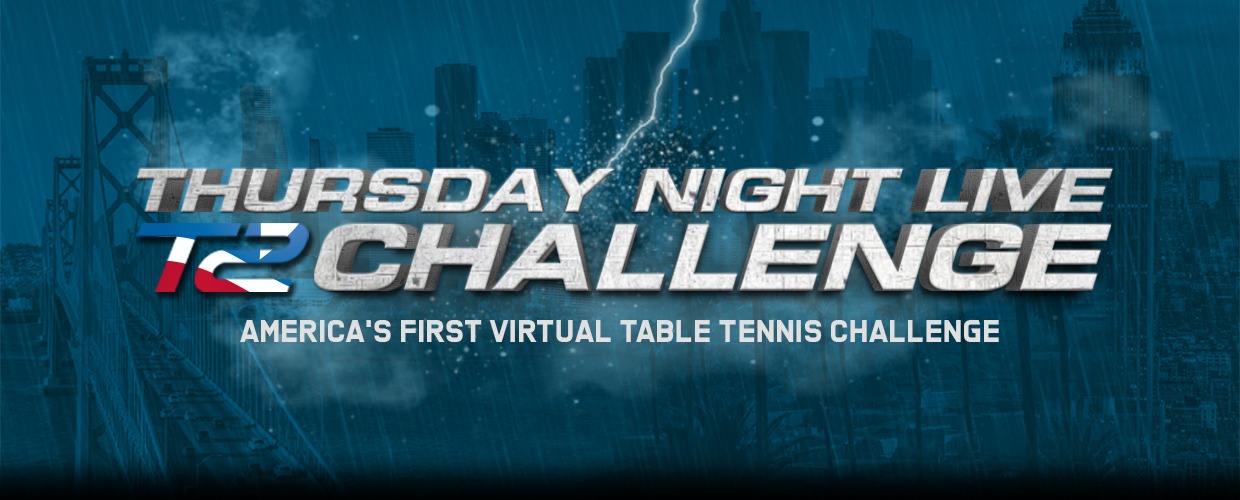 ---
(Colorado Springs, CO – July 23, 2020) – USA Table Tennis ("USATT"), the National Governing Body for the sport of table tennis and T2 Table Tennis League (T2) today announced the launch of "Thursday Night Live: T2 Challenge", a new concept and innovative show that will bring the sport of table tennis to people every Thursday night, which will be streamed live on USATT's website. www.usatt.org.
---
Featuring members of the US National Table Tennis team and being the first virtual table tennis tournament, these matches will be utilizing T2's innovative rules. This virtual series will be held in multiple cities and clubs across the United States mainly New York, Los Angeles, the Bay Areas and Houston and will allow fans to watch the live matches in a virtual atmosphere.
---
The action kicks off this Thursday, July 30, when Olympian Tom Feng will face off against up-and-coming US National Team star Kai Zhang at the Westchester Table Tennis Club in Pleasantville, New York, in a rematch of their recent showdown at the US Olympic Trials.
---
While the match-ups have been designed to ensure maximum competitiveness, the order and team make-up will be selected after each Thursday Night Live match. In a unique twist, the loser of that match will select one of the two players scheduled to play in a pre-determined match the following Thursday (August 6), as a 'teammate'. The tournament will continue with this format – with the loser choosing his or her a teammate for the next match – until one of the two 'teams' wins a total of six matches. The eleven pre-determined matches, many of which pit male and female players in a 'battle of the genders' concept.
---
The first series of the Thursday Night Live matches will employ the rules of the innovative T2, which include a best-of-seven format with games being played to eleven points – and no deuce, i.e. the first player to eleven points wins (and need not win by two points). Also, if neither player has won four games after 24 minutes, the play will shift to T2's "Fast5" system in which the first person who takes five points will be awarded the win for that game.
---
We're extremely thrilled to create a brand-new competition for table tennis fans from around the world. This is really our first effort to get our Olympic and National team members ready for Tokyo and international competitions. We believe utilizing the T2 scoring system will provide our fans with a higher level of excitement to enjoy.
Virginia Sung, CEO of USATT
---
I would personally like to thank Anil Godhwani of the Indian Community Table Tennis Center for his consul and support during the planning stages of this new USATT event, and Will Shortz for hosting the debut matches at the Westchester Table Tennis Center.
Sean O'Neill, USATT High-Performance Director
---
T2 is ecstatic that our very first virtual table tennis challenge will be premiering. It has always been our aim to commercialize table tennis and create new sporting experiences for the fans. We have seen success with our tournaments; T2 Asia Pacific in 2017 and T2 Diamond in 2019 and we are glad that T2's playing format can now be introduced & showcased through this new series with USATT. We are dedicated to embracing the ideals embodied in the Thursday Night Live tournament format, including innovation, the development of iconic stars, and delivering an exhilarating entertainment experience for the fans of our great sport.
Frank Ji, T2 Founder and Chairman
---